Hunter's Safety class will be offered in Prairie du Chien August 20 – 23 & 25. You must register and pick up a book by contacting Dennis Kirschbaum at 608-326-2718. There is an assignment due at the first class so you need to contact Dennis and pick up your book before the first class.

HS Volleyball practice will start Monday, August 15th from 4:30-6:30.

5th & 6th graders interested in Flag Football, please call or text Sara Wall 608-412-1212, by the end of the day tomorrow (8/10). Trying to get a head count.

MS Football Parent/Student Meeting will be Sunday, August 14, 6:00 PM, Doll Gymnasium(Wauzeka small gym). Please visit the Facebook page as a means of communication (@Bluegolds Middle School Football)

Starting Friday, August 5, Seneca Schools will have a new phone number: 608-737-9177. Please change the number in your phone and proceed accordingly to contact the school.


Summer Lunch Program Menu Aug 8th-12th MON 8/8: Popcorn Chicken Bowl TUES 8/9: Mozzarella Dippers WED 8/10: Burger and fries THURS 8/11: Pizza, Cheese or Sausage FRI 8/12: Subs Serving from 11:00am-12:30pm in the school cafeteria. 18 years and younger are FREE, adults $4.00

Back to school vaccines available for students. If interested, please contact The Crawford County Health Department to schedule an apt or to see what vaccine(s) your child may be due to receive.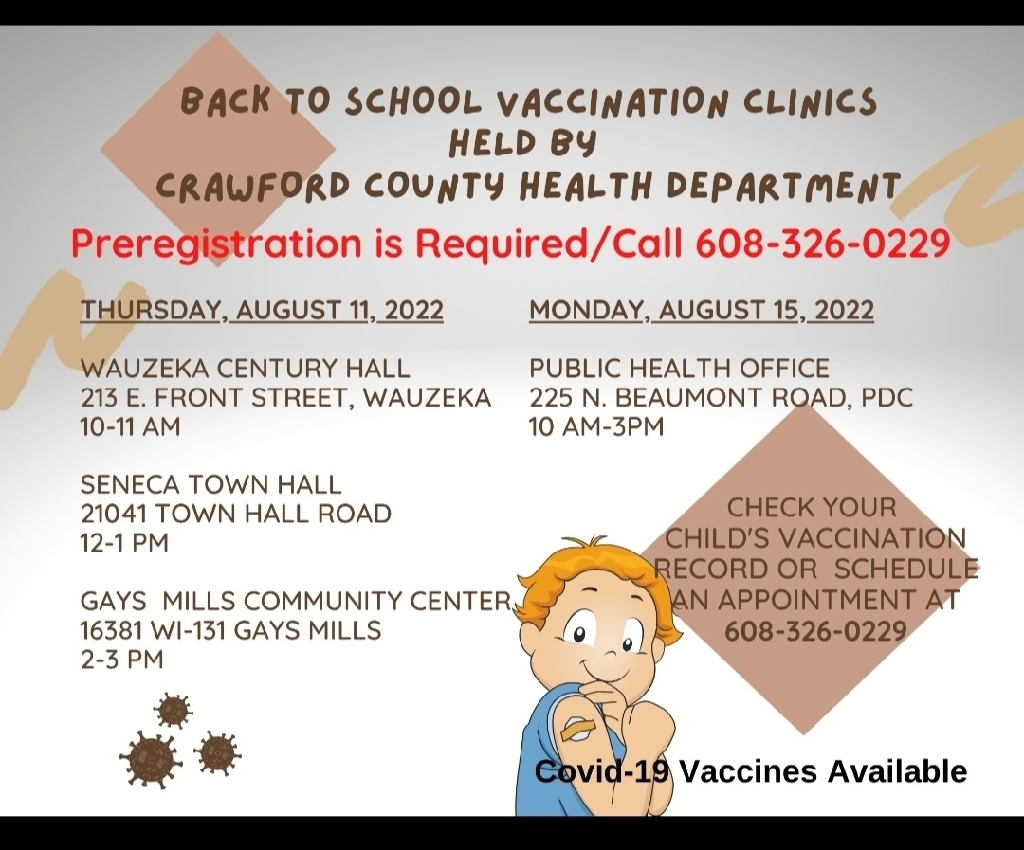 HS Football parents, please see attached updated calendar. Note the date/time for equipment handouts. See you on Tuesday, August 2nd!
https://5il.co/1f2nb

REMINDER: Code of Conduct meeting tonight @ 7pm in the gymnasium.


Student registration is open. Food Service applications are VERY IMPORTANT in determining how much funding our school district receives every year. Even if you do not think you qualify, PLEASE complete the food service application. Read each section carefully and "SUBMIT" or "save and continue" as directed on each page. Registration should be completed by August 19.

The gym and weight room will be closed Friday, July 22.

The Seneca Area School District Board of Education Agenda has been posted to the district website.

Seneca Area School District Code of Conduct Meeting will be held on Monday, July 25, 2022 at 7pm in the gymnasium.


The gym is now available for use, as normal.


July Summer Lunch Program dates and menu. July 5th   Sausage Pizza July 6th  Mini Corn Dogs July 7th Chicken Patty on a Bun July 8th Ravioli with Spaghetti Sauce July 12th Mozzarella Dippers July 13th Spaghetti July 14th Quesadilla Daily meal items will posted to our Facebook page. Serving from 11:00am-12:30pm in the school cafeteria. 18 years and younger are FREE, adults $4.00